Body Burn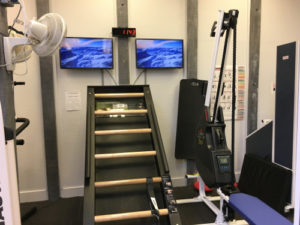 SMX now offers Private and Semi Private BODY BURN sessions! This session has been carefully designed to provide you with a way to burn more calories per minute than any other workout (studies done on our selected equipment confirm that). This workout will also greatly enhance your cardiovascular system, your endurance, lower your resting heart rate, and have a dramatic impact on your muscle tone! Your caloric expenditure and heart rate zones will be available in real time as you train, and your data will be emailed to you after the completion of each work out. You may elect to train with up to 2 other companions for a "small group".  This workout is 100% supervised by your trainer so that you can safely capitalize on every benefit of the workout!
No contracts required.
$45 per session for private class
$70 per session for 2 person class
$85 per session for 3 person class
Please email info@smxtraining.com to schedule this class.
The Workout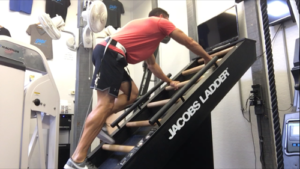 During this HIIT session, you will utilize 3 devices (Jacob's Ladder, Versa Climber, and Marpo Kinetics Endless Rope Trainer) for a variety of stimulus to maximize your training experience.
Prepare to experience an intense and well-rounded workout designed to incinerate calories at an incredible rate, greatly improve your heart health and stamina, tone and strengthen your muscles, and create a physiologic state that will continue to burn calories far after your workout is completed (EPOC/Afterburn Effect).
You will be guided through a series of varying length and intensity intervals on each machine. These intervals will be easy to follow as there will be digital, audio, and computerized cues being displayed in addition to the instructions being provided by your trainer.
Your heart rate, caloric expenditure, and other data will be monitored and displayed in real-time and a summary will be emailed to you after your session. We are convinced that there are no other exercise devices that will help deliver results as efficiently and effectively as these do.
Additional Details
Hear Rate Monitors are available to rent for $5.00 per class, new monitors are available for purchase. All SMX BURN sessions require a cancellation notice of at least 12 hours.
All sessions cancelled with less than 12 hours notice will incur a charge for the full fee of the session. Please schedule your session no less than 3 hours before start time.
You may bring headphones with your own music as long as you are still able to hear instructional cues from your trainer.
At SMX you are not one of many…YOU are #1!
"I have to say…this is one of the best workout experiences I have ever had!  I am so glad I found this gem, and am SO bummed I do't live here to workout with this staff all the time!!  In thirty minutes, Emile, my trainer, made me work harder than I had in months- and efficiently led me through an HIIT circuit that kicked my ass.  I appreciate him taking the time to explain everything I was doing, and why, and helping me with my form. I also met another trainer there, unfortunately didn't catch her name, but she was incredibly nice, and it was so nice meeting the two of them.  If you live in the area, I highly recommend checking it out!"
-Nina J.